Contents:
        Durum Wheat Semolina.
  Storage Conditions:
        Store in cool, dry place.
Nutrition Facts
per 100g serving size
Amount per serving
طاقة/Energy (Kcal)                                    321
دهون/Fats                                                      1
كاربوهيدرات/Carbohydrates                       75
ألياف/Fibers                                                  11
بروتينات/Protein                                           13
How To Cook A Perfect Pasta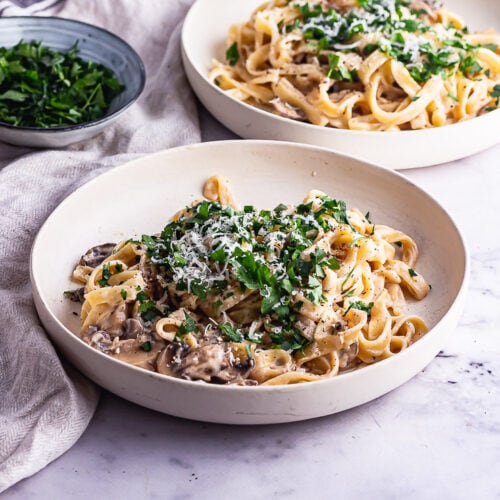 Ingredients
1 tbsp Olive Oil
2 cloves Garlic crushed
250g Mushrooms sliced
200 ml Crème Fraîche
300 g Tagliatelle
Salt and Pepper
Fresh Parsley chopped
Steps
Put a large pot of salted water onto boil. Heat the oil in a frying pan over a medium heat. Add the garlic and fry gently until softened, about 3 minutes. Add the mushrooms, season well with salt and pepper and cook for 8-10 minutes until softened and the liquid has evaporated.
While the mushrooms are cooking add the tagliatelle to the water and stir well for 2 minutes.
Add the crème fraîche to the mushrooms and stir through then use tongs to move the tagliatelle from the water to the mushroom and crème fraîche mixture. Toss using tongs and add a little pasta water if the sauce needs loosening.
Serve topped with fresh parsley and parmesan cheese.