Contents:
        Durum Wheat Semolina.
  Storage Conditions:
        Store in cool, dry place.
Nutrition Facts
per 100g serving size
Amount per serving
طاقة/Energy (Kcal)                                    321
دهون/Fats                                                      1
كاربوهيدرات/Carbohydrates                       75
ألياف/Fibers                                                  11
بروتينات/Protein                                           13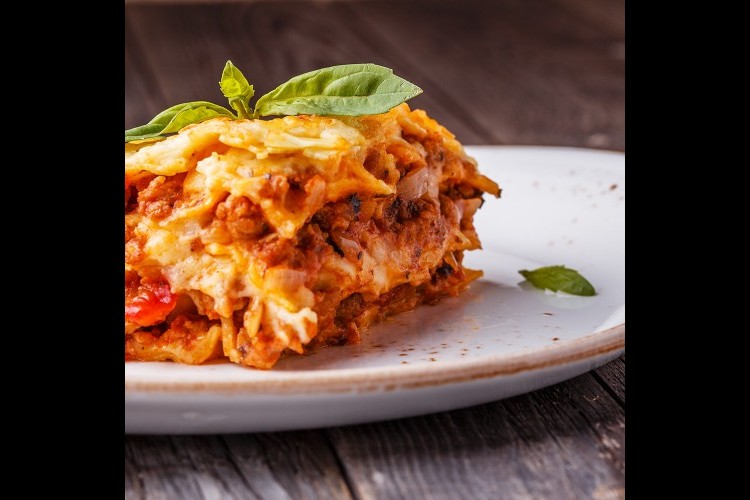 Ingredients
Ground meat: 500 grams
Onions: 1 piece (chopped)
Garlic: 2 cloves (crushed)
Basil: 1 tablespoon (freshly chopped)
Oregano: 1 teaspoon (dried)
Brown sugar: 2 tablespoons
Salt: one and a half teaspoon
Tomatoes: can (mashed)
Tomato sauce: 4 tablespoons
Lasagna dough: 12 slices
Eggs: 2 pieces (scrambled)
Ricotta cheese: two cups
Parmesan cheese: 12 cup (grated)
Parsley: 2 tablespoons (dried)
Salt: 1 teaspoon (extra)
Mozzarella cheese: 250 grams (grated)
Parmesan cheese: 2 tablespoons (grated / extra)
Steps
 Put the meat in a frying pan over a medium heat and stir until the meat turns brown.
 Add the garlic, onion, and stir.
 Add the fresh chopped basil, oregano, brown sugar, one and a half teaspoons of salt, mashed tomatoes and tomato sauce and leave the mixture on the stove until the tomatoes are mixed with the meat for 30 minutes.
 Preheat the oven at 375 degrees.
 Boil the lasagna in salted water for 2 minutes, then drain and set aside.
 Mix the scrambled eggs, ricotta cheese, parmesan cheese, dried parsley and salt.
 Place a layer of the boiled lasagna in an oven dish and spread half the ricotta cheese mixture and half the grated mozzarella cheese.
 Spread one third of the tomato sauce with the minced meat and spread a pinch of Parmesan cheese.
 Add another layer of lasagna, then the mixture of ricotta cheese and the rest of the mozzarella cheese and tomato sauce with the meat and the rest of the grated Parmesan cheese.
 Put the plate in the oven for 30 minutes.
 Take the plate out of the oven, leave it for 10 minutes, then cut it and serve.